I saw an interesting headline on the LDS church website yesterday.
I attended four years of seminary, every day before high school. In addition to our comprehensive study of the Old and New Testament, the Book of Mormon and the Doctrine and Covenants, we were required to intensely study, memorize, and basically internalize one hundred verses of scripture, twenty five each year, specifically chosen to help us in our lives and our understanding of the gospel. How would you even begin to narrow down the scriptures into 25 "most meaningful to the entire world" verses a year? Actually, I don't think it's humanly possible so it's a good thing our church is governed by revelation.
The continuing revelation aspect is what caught my interest in this headline about the changing lineup of scriptures. We all know how much the world has changed in the last 20 years. (Yikes! I started as a freshman in high school twenty years ago! The World Wide Web was born. People still wore hypercolor T- shirts and big tall bangs! And Bill Clinton was president.) I was curious to see how the leaders of the church have been inspired to change the curriculum to prepare the upcoming generation for the rest of their lives. What new challenges are they going to face? What are they going to understand better than we understood? Who are they going to be? I know that sounds kind of sappy, but I have daughter in this generation who will be in seminary in a mere two years, affected by these changes. I also fully believe that the President of our church is a Prophet, Seer, and Revelator, as are his apostles, who directly oversaw these changes. What does "Seer" mean? Very simple. One who can see the past, present, and especially critical in this case, the future.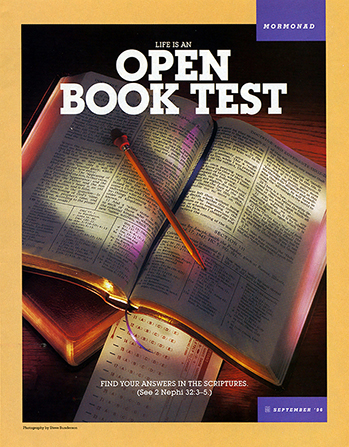 I had some extra time today while I guarded a napping baby on my bed to compare and contrast the new list with the scriptures I memorized twenty years ago. Granted, some of these might have been changed the year after I learned them and not recently--I have no way of knowing--but that doesn't concern me. What I wanted to know is, what does my daughter need more than I did at her age?
At my reckoning after going through them all and remembering or not remembering them, I think there are about 36 new scriptures, which also means that many old ones were replaced, making about 72 changes. There were also a few where a verse or two was added to a scripture on the existing list. Wow. Here are a few things I noticed.
Some of the "new" scriptures highlight the great destiny of this generation. For example:
"And God saw these souls that they were good, and he stood in the midst of them, and he said: These I will make my rulers; for he stood among those that were spirits, and he saw that they were good; and he said unto me: Abraham, thou art one of them; thou wast chosen before thou wast born." (

Abr. 3:23

--This one may be from the old list, I may have actually learned this one, I can't remember for sure...)
"... ye shall be a peculiar treasure unto me above all people... And ye shall be unto me a kingdom of priests, and an holy nation." (Exodus 19:5-6) I think this also underscores how those that follow Christian values are becoming more and more peculiar to the rest of the world!
The "ye are the light of the world" scripture (Matt 5:14-16) is still on the list, but added to it is a scripture particularly exciting this year, seeing how the Lord is hastening his work and greatly increasing the missionary force. "Go ye therefore, and teach all nations, baptizing them in the name of the Father, and of the Son, and of the Holy Ghost...." (Matt. 28:19-20)
Other new scriptures seem to perfectly answer to current issues and events, questions and misconceptions, such as:
"For we labor diligently to write, to persuade our children, and also our brethren, to believe in Christ, and to be reconciled to God; for we know that it is by grace that we are saved, after all we can do....And we talk of Christ, we rejoice in Christ, we preach of Christ, we prophesy of Christ, and we write according to our prophecies, that our children may know to what source they may look for a remission of their sins." (2 Nephi 25:23, 26) Mormons are Christian. End of Story! Incidentally, my family already memorized v. 26. It is very easy to sing to "Oh Come All ye Faithful!" (For the lyrics match-up, visit my previous post here.)
Or what about the declining marriage rate? "Therefore shall a man leave his father and his mother, and shall cleave unto his wife..." (Gen. 2:24) Or the average number of children per family on the decline? "Lo, children are an heritage of the lord...Happy is the man that hath his quiver full of them; they shall not be ashamed..."
One addition even highlights our belief in a pre-earth life and the sanctity of life for the unborn "Before I formed thee in the belly I knew thee..." (Jeremiah 1:5). If that's not always a hot topic for political contention I don't know what is.
There also seems to be an increased emphasis on virtue and purity--much needed in today's Babylonian existence with instant pornography a huge problem! This will be taught with new scriptures like:
"Who shall ascend into the hill of the Lord? or who shall stand in his holy place? He that hath clean hands, and a pure heart; who hath not lifted up his soul unto vanity, nor sworn deceitfully." (Psalms 24:3-4)
"...go no more after the lusts of your eyes..." (Alma 39:9)
"ye must practice virtue and holiness before me continually..." (D&C46:33)
"...know ye not that your body is the temple of the Holy Ghost which is in you...and ye are not your own? For ye are bought with a price; therefore glorify God in your body..." (1 Cor 6:19-20)
Of course, the 10 commandments are still and force and definitely still made the list.
I also noticed several scriptures about hope, courage, gladness, comfort, and relying on Christ and strength through our covenants. Whatever comes, I'm sure they are going to need those! Do these scripture hint at a tough future along with that great destiny? Perhaps. If so, I can't think of a better way to arm them for the battle of life.
Read the list for yourself. Any favorites?